DMA offers a comprehensive choice of pallet racking to meet every possible requirement and configuration.
Here you will find some descriptions of the most common types of pallet racking available.
Do you want to find out why you should use a distributor instead of a manufacturer for your pallet racking solutions?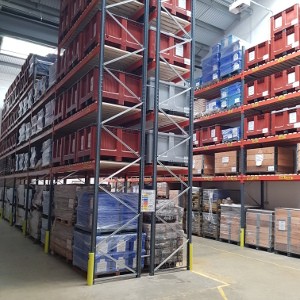 Conventional Pallet Racking
By far the most popular pallet racking system, conventional pallet racking allows easy access to any pallet position in any part of the warehouse. Access is usually by reach forklift trucks which require wide aisles.
This system also allows picking positions at the lower level. Due to the wide aisle configuration, pickers can access both sides of the aisle without conflict.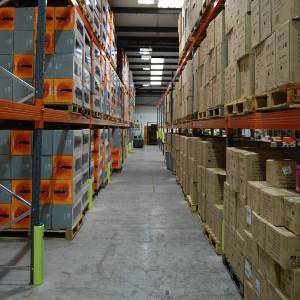 Narrow Aisle Pallet Racking
Narrow aisle pallet racking allows for narrower aisle widths, with pallet positions accessed by articulated forklift trucks. This increases storage capacity by permitting more runs of racking in the same space.
Specialist forklift trucks capable of working in narrow aisles will be required to access the racking.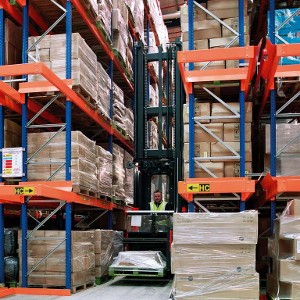 Very Narrow Aisle (VNA) Pallet Racking
VNA is fitted with guide rails on both sides of the aisle, keeping the forklift in a straight line, with the forklift mast turning 90º for the putting away and retrieval of pallets. This system maximises the number of pallet spaces whilst allowing access to any individual pallet.
VNA systems are often used with driver-less automated forklift trucks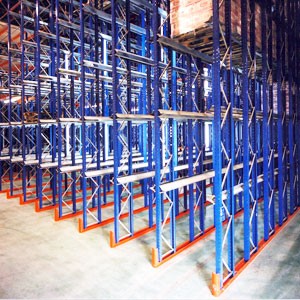 Generally used for storing large numbers of identical pallets, this is the most space-efficient racking available without the need for specialist handling equipment. 'Storage lanes' are created by storing pallets on load rails. Forklifts enter these lanes to load/ unload pallets from top to bottom. Access can be 'drive-in' from one end or 'drive-through' from both ends for improved stock rotation. Typically, 60-80% increased capacity versus conventional racking can be achieved.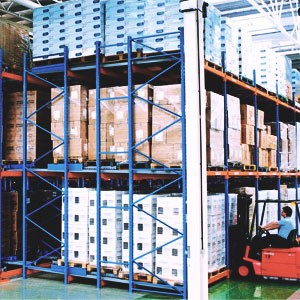 One of the most space and time efficient pallet storage options. This dynamic 'first-in, last-out' retrieval system stores pallets up to 5 deep on trolleys/ carts. On loading a new pallet, existing ones are pushed back up an inclined channel rail. On retrieval, remaining pallets simply roll into position at the picking face. Specialist handling equipment is generally not needed. Dynamic push-back racking is well-suited to marshaling areas, bulk storage, and cold/ chill store applications.
This storage system allows drums of cables to be stored at height, with the centre of the drum held on a spindle resting on brackets on both sides of the racking frames. This system is widely used by electrical distributors.
Cable drum racking can be adapted to suit all types, weights, and sizes of cables.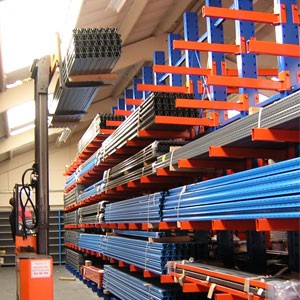 Ideal for storing irregular shapes (loose or wrapped) and long, heavy items such as pipes, timber, furniture and steel tubes/ beams/ sheet materials etc. The system comprises of uprights braced at the spine with fixed welded or adjustable arms, both of which can be manufactured to a variety of lengths.
Cantilever racking can be galvanised for outdoor applications.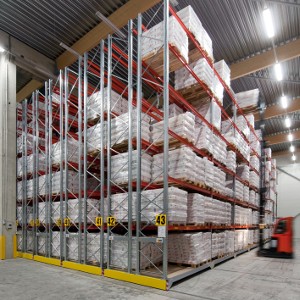 This high-density system is mounted on a mobile chassis, and at the push of a button, glide along floor tracks to open up an access aisle to the required pallet row.
Space is saved by only requiring room for one aisle to access all pallets, making this system suitable for low-volume pallet movements. No specialist handling equipment is required, and standard pallet racking systems can be converted to mobile to save space.
Suitable for all applications, especially temperature-controlled storage.
Pallet Racking Accessories
DMA supply the full range of accessories to improve the performance of your pallet racking.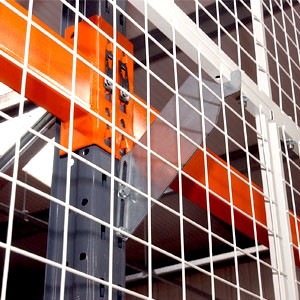 Anti-collapse Mesh / Netting
Anti-collapse mesh or anti-collapse netting serves to protect pedestrian routes in warehouses where access is behind a row of pallet racking. When accessing or locating pallets, items on pallets can be disturbed, resulting in items falling from height into the pedestrian 'corridor' behind the racking.
For safety protection, there are two options.
The first is to use a mesh panel system attached with 'stand-off' brackets to the rear of racking, extending upwards to cover all the pallet positions.
The second option is to use a rope netting system attached also to the rear of the racking. The netting is tensioned using ropes or cables attached to both ends of the racking frames at incremental positions along the height of the frames. Both the anti-collapse mesh and anti-collapse netting retain items that have been dislodged, affording safety protection to the operatives.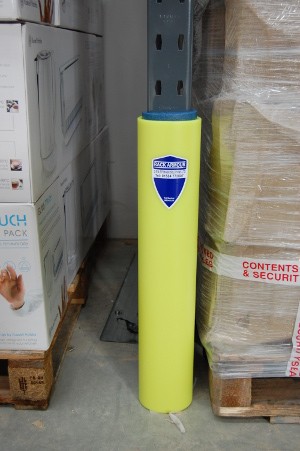 Also known as Frame Protectors or Rack Guards, rack protection is used to protect the lower part of the rack uprights from knocks and scuffs inflicted by forklift trucks or pallet movements.
There are two common types in use.
The first type is a "U" shaped protector made of steel that fits around the rack upright. It is positioned at the base and fixed to the concrete floor slab with anchor bolts. The robust steel construction protects the upright from all but severe impacts. However, if damaged, the floor slab may also be damaged when the floor fixings are being ripped out. Replacements are difficult because the protector cannot be refitted in the same place.
In recent years, a new type of rack protector in the form of a push-on or clip-on has become more popular. These protectors, made from HDPE in high visibility yellow, are fitted over the uprights, and extending to 600mm from the floor. As there are no mechanical fixings, these rack protectors do not restrict the width of the opening between the rack frames and are therefore less likely to come into contact with pallet movements. There are claims that this type of rack protection is less effective than the metal version, but in DMA's experience, having fitted thousands of this type of rack protector, we have not seen any damage to the uprights; a large part of this is due to the high visibility colour and the height, both of them making forklift drivers much more aware of the proximity of the uprights.
The most vulnerable areas of a pallet racking installation are the exposed ends of a single or double row of racking. In DMA's experience of conducting Rack Safety Inspections, corner uprights, horizontal and diagonal braces are subject to the most damages. This is often caused by pallets being pushed into the end frames. Such damages can be easily avoided by installing rack end barriers.
Timber or Mesh Decking Panels
DMA can supply and install decking panels to sit on pairs of beams in pallet racking.
Timber Decking is manufactured from specially graded structural timber and can be rated up to 3 tonnes safe working load located on a pair of beams. They are usually of 'open boarded' construction. 'Close boarded' versions are often used to provide flat surfaces for lower picking levels and are held in place by timber battens. There are no fixings involved, making it easy to relocate if the racking configuration is changed.
Mesh Decking is manufactured from chrome plated wire mesh and can be made to support load capacities up to 3 tonnes per level. They are held in place by a 'waterfall' effect, clamping over both beams to prevent movement. Mesh decking is the preferred option if there is an in-rack sprinkler system in place.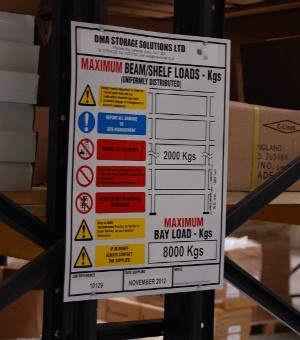 Under HSE and SEMA (Storage Equipment Manufacturers' Association) guidelines, pallet racking should have Load Notices attached to show the maximum safe working load per pair of beams, the maximum safe working load that can be stored in each bay, and critically, the maximum height of the first beam level.
All DMA pallet racking automatically comes with Load Notices. If your pallet racking does not have Load Notices, DMA can undertake a site survey and advise you of the correct safe working load information for most makes of pallet racking, and rectify the situation by supplying you with the correct Load Notices to comply with current regulations.
Pallet Racking Inspection Services
The responsibility for the safety and general condition of pallet racking installations rests with the user. It is recommended by the Health and Safety Executive and Storage Equipment Manufacturers' Association (SEMA) that regular inspections be carried out to check for any damage to various components.
If you are unsure of what to look for or would prefer an independent assessment of the condition of your racking, then DMA offer a Racking Inspection Service that will check that the installation complies with HSE and SEMA guidelines. You will receive a full report highlighting any items that need attention to ensure that your installation is fully compliant.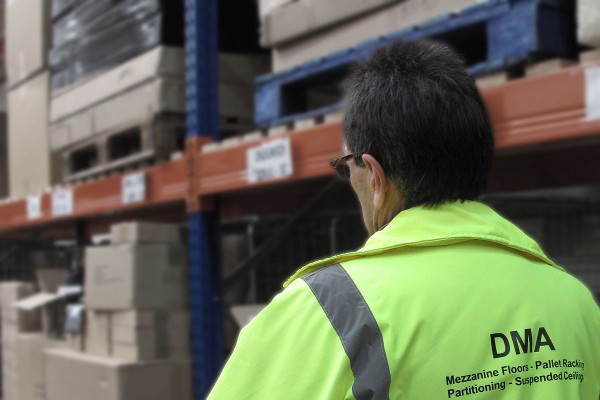 Following a rack inspection that may have revealed some damage which requires attention, DMA can obtain the necessary components and arrange to rectify the damage, to ensure that your installation is fully compliant.
According to HSE's advice in HSG76 Warehousing and storage: a guide to health and safety, any owner or user of a racking system should carry out regular inspections by a technically competent person at least once a year. In addition, there are the Provision and Use of Work Equipment Regulations 1998 (PUWER) that outline the need for work equipment including racking to be inspected after installation or if the equipment is damaged. DMA has been providing this service to a wide range of customers for many years.
Shelving installations also come under the same HSE and PUWER guidelines as for pallet racking and should be inspected by a technically competent person at least once a year. Again, DMA has been providing this service to a wide range of customers for many years.
This depends on the degree of repairs. If the racking is missing safety pins or there has been a small number of minor damages to beams, these can be replaced or repaired in house by a technically competent person. Damage to frames and uprights should only be done by a qualified rack installation company. All DMA installers are SEIRS (Storage Equipment Installer Registration Scheme) trained, and this will give you the peace of mind of a safe and quality repair. Following a rack inspection by DMA, we will provide a quotation for the repairs, together with a detailed inspection report to SEMA standards.
Why Use a Distributor Instead of a Manufacturer?
Distributors typically have trade accounts with all the major pallet racking manufacturers and are therefore able to offer a wide variety of options. DMA has been a distributor for all the major manufacturers for over 50 years and has built a reputation on impartial advice for the best pallet racking system that is suitable for your requirements. 
Dealing directly with the manufacturer, however, means that you only have the choice of their system. At DMA, we are confident that our prices are as competitive as the manufacturers due to our long-standing trading relationships.
Distributors like DMA will also advise you, in addition to racking layout and configuration that will optimise the use of available space, important accessories such as rack protection, signage, and load notices.