DMA recently carried out a complete warehouse and office refurbishment for the Docherty Chimney Group, at their new site in Norbiton, Kingston-upon-Thames, comprising of 1012 m² of warehouse and 116 m² of office space.
The building chosen was in some state of disrepair and needed a complete overhaul to bring it up to the standard required by Docherty Chimney. Following various site meetings, drawings and detailed discussions with the client to ascertain their requirements, DMA was chosen to carry out the complete works.
The works included the removal and disposal of redundant block walls and concrete oversight, refurbishment of existing WCs and the construction of a new staff kitchenette, alterations to an existing office block including a new trade counter, customer reception area and a meeting room, and alterations to existing lighting and power supplies and complete replacement of warehouse lighting with energy efficient fittings. The warehouse floor was painted and the building was then redecorated throughout both internally and externally. The warehouse area was fitted with pallet racking to suit narrow aisle forklift trucks and shelving was installed on the mezzanine floor for small parts storage. DMA also provided all the office furniture, signage and warehouse benches.
DMA managed the site throughout the execution phase and despite having no power until the final week, rose to the challenge and delivered the contract on time and within budget.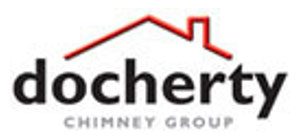 From the very first meeting, DMA were professional. Their initial fact finding questions highlighted our lack of experience in designing a new warehouse but with DMA's help and patience we completely redesigned the way we operate our warehouse. At every stage of the planning process, they produced new drawings holding our hands every step of the way. Finally, when we had finalised the plan they produced a detailed quotation itemising everything. Prior to starting DMA produced a project plan and because of the detail, all the trades had to stick to their times! We had a major issue with the electrics (in that we had none until the last few days) but rather than use this as an excuse to charge more or delay the work, DMA and ALL their subcontractors just got on with it. The end result was a project delivered on time and within budget. As the client I did not have a single sleepless night, considering this was the first project of this size for Docherty's and all eyes were on me to produce a good result I am very glad I have chosen DMA. I look forward to working with them again at our new site in Ripley.
Simon Weston, Branch Operations Manager
Docherty Chimney Group, Kingston-upon-Thames, Surrey