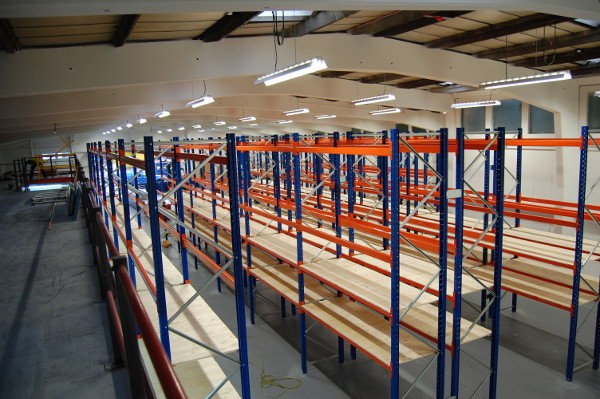 DMA had previously refurbished and fitted out a number of the Docherty Chimney Group depots at Kingston-on-Thames, Warrington, Ripley and Gateshead and once again was appointed to fit out a new depot for them at Thatcham, Berkshire. The brief was to maximise the storage capacity of 6,200 sq. ft. of warehouse floor space utilizing the 6m headroom, to provide bulk storage for pallets at the upper levels and to allow picking at the lower levels. The racking design was based on the use of an articulated truck working in an 1850mm aisle (minimum). The specification included Storax SP55 racking, open board timber decking panels for the upper bulk storage levels and close boarded timber decking for the lower pick levels. The storage area was originally without lighting and DMA supplied and fitted low bay warehouse lighting to all aisles together with emergency spot lamps at each end. DMA also extended the fire alarm system to include smoke detector heads in the storage areas. A new trade counter was constructed with additional power points within the showroom area.
I have just been to the new branch at Thatcham, Newbury and I am writing to say thank you for all the work and advice that you gave us. The design that DMA came up with for the Pallet Racking has provided additional capacity for our expansion plans which is excellent. This is the first time that I have worked with DMA and can now see why DMA were used on three previous branches. We hope to continue our expansion and that we get to work with DMA again in the future.
Allister Moorcroft, Managing Director
Docherty Chimney, Thatcham, Berkshire
Established in 1960, Docherty Group is the largest independent manufacturer and distributor of flue and chimney products and heating appliances in the UK.