High quality modular steel partitioning
Types Of Steel Partitioning Available
DMA can supply and install a wide range of Steel Partitioning Systems for offices, storage areas, and factory dividing walls. We are happy to advise you which system best suits your needs.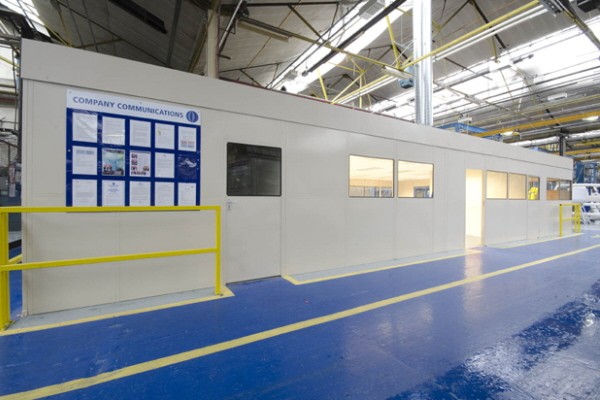 Single Skin Partitioning System
DMA's integrated single skin partitioning system is suitable for a wide range of applications, including offices, storage areas, factory dividing walls and mesh roofs. The system is constructed in a formation of panels, support mullions and top capping. The panels are bolted to the floor which means that they are demountable and re-locatable with a minimum of effort.
The DMA single skin partitioning system is quick and easy to construct and comes with a comprehensive range of door options: single, double and sliding doors. The panels and doors can also be pre-glazed with laminated safety glass. There is also a wide variety of width and height options, as well as flexible vertical configurations such as all solid, solid/glass/solid, solid/mesh, and all mesh. Rest assured that there is a combination that fits your requirements and budget.
Double Skin Partitioning System
DMA's double skin partitioning system has a flush-faced skin on both sides and allows sound insulation e.g. high-density Rockwool to be fitted between the two skins. It is particularly suitable for offices, and clean rooms that are located within factories or production areas. The panels sit directly into a floor channel, with an option of laminate skirting, and lock into adjacent panels by means of an internal locking channel, making installation fast, simple and secure.
This system comes standard with high performance single or double door sets. It offers a wide variety of standard width options, as well as bespoke widths to suit. Like the single skin variety, the double skin partitioning system also comes in various vertical configurations – all solid, solid/glass/solid or flush double glazed.
Depending on the dimensions of the areas, in tall spaces in warehouses or factories, it is often possible for DMA to attach a self-supporting ceiling to enclose the area for soundproofing and to attach lighting.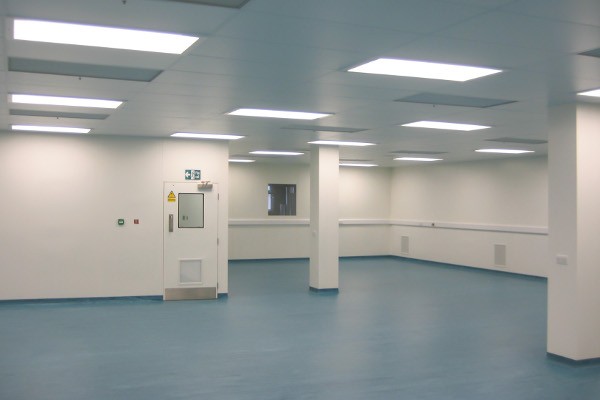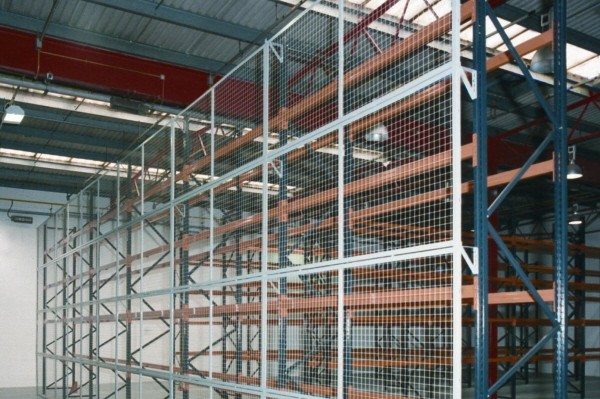 Anti-Collapse Cladding System
DMA offers a versatile anti-collapse system for cladding areas of pallet racking that face onto pedestrian walkways. The system consists of framed mesh panels pre-punched and mounted on to the rear of pallet racking by means of brackets that are fixed to the racking uprights.
The DMA anti-collapse cladding system is manufactured in mild steel angle frames welded together. The frame is infilled with mesh sheets spot-welded to the main frame, providing a light and durable construction. The system is powder coated in a range of colours. All DMA's anti-collapse cladding systems are demountable, making it easy to be altered or relocated to suit changes in racking layouts.
DMA offers a comprehensive range of multi-purpose mesh storage cages, complete with mesh roofs, for indoor or outdoor use. These cages are suitable for most applications where security is required to combat theft or to protect equipment.
The system comes with a comprehensive range of single, double and sliding doors that can be fitted with most types of locks and latches, including interlocks.
The security cages are bolted to the floor from the inside to maintain security. They are demountable and can be relocated with minimum effort. DMA's mesh security cages can be manufactured to any dimensions to suit the application.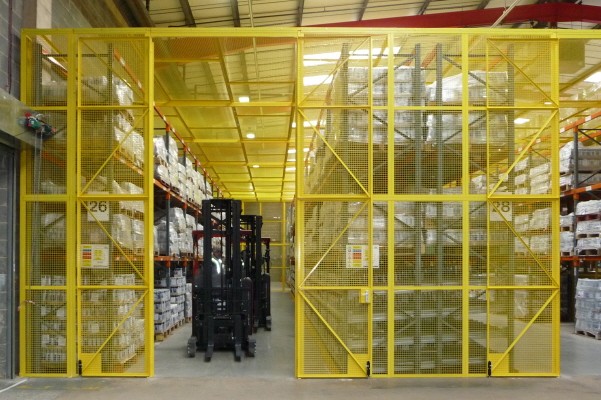 Steel partitioning is a robust product ideal for use in factory or shop floor environments, where knocks and scrapes are more likely to occur due to movements of materials and handling equipment.
Steel partitioning systems can be manufactured as double skin panels with insulation material bonded into the void. This affords a degree of heat retention and sound attenuation.
Yes, windows can be inserted either as single or double glazed in steel partitioning. DMA usually recommends double glazed windows where the steel partitioning has been fitted with insulation material.
Yes. The majority of double skin steel partitioning is installed for office or workshop use and will require a suspended ceiling to reduce noise, provide insulation, and allow light fittings to be installed. There are various methods of securing the ceiling, and DMA will advise the options that best suit your needs during the site survey.
In warehouses and factories with heights of up to 12m, taller steel partitioning can be installed to form cages or to secure and to limit access. Such tall structures are usually manufactured as mesh panels rather than sheet steel so to allow ambient temperatures to be maintained between the areas.
Sliding doors for forklift truck access, pedestrian doors and fire doors can be fitted. A variety of locking systems can be fitted to doors to allow access to the enclosed area. DMA will advice you of all the options available to secure access.