Office & Warehouse Shelving
Innovative and flexible shelving for any application and budget.
Office & Warehouse Shelving Examples
Are you looking to store goods, materials or documents?
DMA shelving systems are ideal if you require intelligently-designed storage that makes optimal use of space and increases accessibility.
Heavy Duty Shelving
Suitable for storing heavy components or tooling in an industrial environment. Almost any weight can be catered for.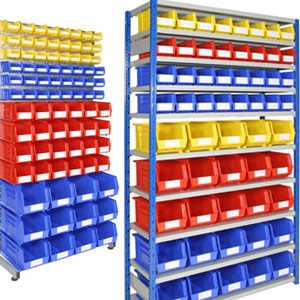 Small Parts Storage
A variety of container sizes and colours are available to suit various component sizes.
Long Span Shelving
Suited to over-sized items that are to be picked and located by hand.

Numerous systems are available in the marketplace and DMA can advise which system best suits your requirements.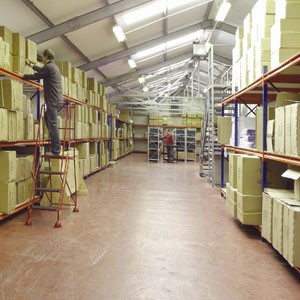 Wide Span Shelving
For heavy-duty, low-level and accessible storage where pallet racking is inappropriate or impractical.
Storage Walls
DMA storage walls are attractive and sophisticated floor-to-ceiling solutions installed against existing walls or as a partition accessible from both sides. Cabinet configurations are available to meet many needs – from adjustable shelves to suspended filing drawers, even wardrobes. Finishes range from plain colours to veneers; and you can specify a full-wall graphic to suit your corporate image.
Chrome Wire Shelving
Well suited to applications where hygiene is important. The nickel chrome finish is great for office, retail and showroom applications and offers excellent light distribution. The ESD (electro-static discharge) variety is suitable for anti-static requirements.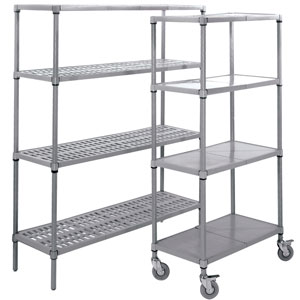 Plastic Shelving
Perfect for storing food, for walk-in chillers/freezers and where non-magnetic requirements exist.
Mobile Shelving
Ideal for creating high density storage of records and documents in expensive office accommodation or space saving for small parts with a low frequency pick and put-away profile in warehouses or mezzanine floors. Whether by manual hand wheel or the "Follow Me" electric drive system, the mobile shelves glide effortlessly apart for aisle access when you need it.
Archive Shelving
DMA archive storage systems take the pain out of document storage. We design and install archives that deliver maximum capacity and efficiency in the minimum of space.
Well-designed, convenient and accessible storage from DMA maximises the potential of your existing space whilst helping to increase office efficiency and eliminating the frustration of inadequate storage. It could even be the difference between making the most of your current space and an expensive/disruptive relocation.