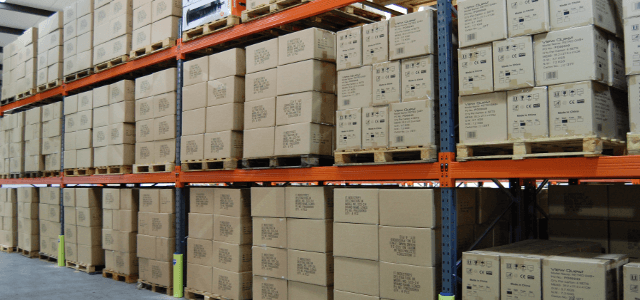 DMA was engaged by the client to optimise the use of 15,000 sq ft of warehouse floor space to accommodate Euro and UK pallets, thereby reducing the expenses of outsourcing storage during peak trading periods.
DMA proposed a number of layout options, each one required the use of a different type of forklift truck. Working closely with the client, the solution was to provide narrow aisle pallet racking that could be accessed by an articulated truck that would operate in a 2 metre clear aisle.
The pallet racking design utilised 3600 mm wide beams with a maximum uniform distributed load (u.d.l.) capacity of 3000 kgs., located on 1100 mm deep frames. By locating the pallets in 1200 mm depth orientation, each bay would either accommodate four 800 mm wide pallets or three 1000 mm wide pallets, and this provided the client with the flexibility they required.
The frames supplied were 4000 mm high, with beam levels located at 1800 mm and 3600 mm from the ground. Upright protectors were fitted to all front facing uprights to protect the racking from accidental lower leg impact, and load notices were applied to the ends of runs of racking.
To minimise the disruption to the client's day-day-day operations, the construction was carried out in a phased installation by our experienced installers during normal working hours.
It was refreshing the way DMA approached the brief, demonstrating a very methodical but lateral thinking approach, which included constant communication to ensure all business processes and pitfalls were covered. After presenting multiple options in a very clear and professional manner it made the decision process very seamless, coupled with transparent costings which ensured quick contract negotiations and demonstration of value. The project was finished on time and we are completely satisfied with the end results which will alleviate the need for external overflow warehousing
James Wakeley, Operations Director
Southern based wholesale distribution company, Purfleet, Essex