DMA was appointed by Adina Heating Products to build their new showroom and warehouse facilities in Ripley, Derbyshire.
The project included the refurbishment of existing offices and the construction of a brand new showroom that features displays from all of the leading manufacturers that Adina represents in the UK.
The showroom was constructed from stud and plasterboard partitioning; it was then taped, jointed and decorated. The area was overlaid with a 600mm x 600mm grid suspended ceiling and fitted with tegular edge tiles. New CAT2 recessed lighting was fitted into the suspended ceiling and high bay lighting installed in the warehouse. New power points were installed in both the showroom and warehouse and a new security alarm system was also fitted.
The warehouse racking consisted of 37 no. bays of new adjustable pallet racking, with each bay 5m high x 2.7m wide x 1.1m deep with 3 no. beam levels, to store 1200mm x 800mm euro pallets. The front upright of each bay was fitted with upright protectors to minimize potential damage from forklift trucks.
All the works were completed on time within the two week period allocated by Adina.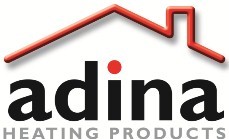 As I am particularly busy traveling the country visiting our branch network I needed to feel confident in the firm we engaged to develop our flagship Stove Showroom and warehouse. Having used DMA on a number of occasions I knew that the process from start to finish would run smoothly. DMA understood that we are busy and that all development was a significant investment in the future growth of the business so had to be right. A key area to me was that they helped me see how to best make space work. They worked with me on each aspect regularly challenging me about what I was trying to achieve and particularly at the design phase made me question everything. Once this process was finalised they produced drawings, timelines, detailed quotes etc. – then we went over everything again and again making sure we were all happy. Once they started there were regular site meetings and updates. Any alterations were discussed and costed prior to changes and all members of DMA staff plus their subcontractors were polite and friendly – very willing to go the extra mile. Each project we have done with DMA has been delivered on time and within budget which when I had to continuously update and justify to my board made my life much better. In conclusion I would like to thank Mike, Paul and the whole team for helping me develop Docherty Group and I look forward to being involved with DMA for many years to come.
Simon Western, Branch Operations Manager
Adina, Ripley, Derbyshire
Adina Heating Products is Docherty Group's renewable fuel appliance division that supplies multi-fuel stoves and cookers.