DMA recently completed the installation of a 166 m² mezzanine floor at Supercraft Ltd, to be used for storing tooling previously located on the ground floor area.
During a detailed site survey, DMA discussed with the client the unique challenges of constructing a mezzanine floor at this site: over existing expensive computer controlled machinery that were plumbed in and extensive overhead services that could not be disturbed.
DMA's solution was to design the mezzanine floor above the services and the offices in such a way that it would leave the services and machinery in situ.
The floor was designed to take a load of 9.6k/N m² to accommodate the heavy tooling stored on the shelving located on the mezzanine area. The racking was fitted with spreader plates to help distribute the load across the joists to prevent point loads.
The columns below the mezzanine floor were positioned so that they did not interfere with the client's existing layout of production machinery and office areas. A pallet safety gate on the mezzanine floor was installed to allow goods to be loaded onto the mezzanine floor by forklift truck.
All the works were carried out during normal working hours by our experienced installation team, according to a project plan agreed with our client so as to minimize the amount of disruption.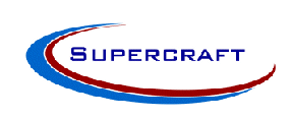 I was delighted with the pre planning by DMA. The project was scheduled for 5 days duration, materials were delivered on time and the whole project was planned very efficiently: no cost overrun and with only minor interruption to our manufacturing processes. I would have no hesitation in recommending DMA for this type of installation.
Geoff Green, Managing Director
Supercraft Limited, Byfleet, Surrey
Supercraft Ltd. are a precision engineering company that specialise in the design and manufacture of complex integrated control systems for the aerospace and defence industries.